(what you hear is a homemade live recording of two pieces  from Les cinq doigts by Igor Stravinsky)
Some memories stay closer to our hearts than others. A piece can also have this effect on one, sometimes because the music touches you so deep, sometimes because it makes you think about the context you played or heard it in, for me it is often a combination of both.
This weeks program in Brussels Philharmonic flashes me back to my first orchestra experience ever: Petrouchka! 
Although 2 other pieces by Stravinsky are featured (Chant du rossignol and The firebird), Stravinsky as a composer touched me very deeply during my first steps in my life as a musician….
….with Petrouchka  for its playful waltz in which the harp accompanies the danse of the Ballerina and the Moor. A waltz in which the harp part tries to maintain the carefree spirit of a puppet tale. The version I played as a youngster was this of 1947 where he uses only one harp in his orchestration instead of two in his first 1910-11 version.
….. in Orpheus(which I encountered during an orchestra project at the conservatory), where the  premier tableau starts with the harp  in a very cinematic way and also further along he gives her some important soloist themes that the harp sings out first in the orchestra.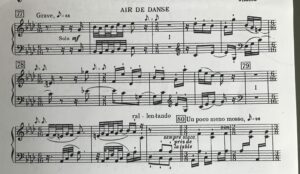 …in The firebird(the first piece by Stravinsky I played in Brussels Philharmonic) where the harmonics evoke the rocking of the Berceuse and off course the enchanting glissando after the horn solo in the Finale.
He knew so well how to use the harp in his orchestration; not only in the way of pure writing and notation but also regarding balance and types of sound. In Orpheus he counts on the harpist to make a very marcato, dry but clear sound, somewhat ancient but still clearly a harp, whilst in the berceuse of the Firebird he expects that the flageolets can make a very round soundscape.
Also the 2 harp parts in Le chant du Rossignol are very storytelling -probably the most when the harp plays the rhythm of the mechanical bird- glisses, staccato marks, round chords, they all represent a special image in the story.
And still, with all his knowledge even Stravinsky wrote some five fingery chords or patterns now and then (see Kastchei's dance f.e) and I can not wisk the thought that he did this to challenge us!
So to honor the great Stravinsky I made a little recording of two of his pieces from Les cinq doigts (for piano, unfortunately he didn't write anything for harp solo)which you heard whilst reading this blog.
For more Stravinsky:
on my spotify you'll find a playlist of examples given above: click here
or come and join us tomorrow:
Saturday 9th October 2021, 20.15h, Flagey : Birds, Brussels Philharmonic conducted by Jun Märkl. More info